If you like upcycling as much as I do you are going to enjoy these glass jar Christmas crafts ideas. I like to think about how can I reuse things and be creative.
I have been saving spaghetti and jam jars to use for Christmas crafts and I came out with some decorating ideas. You can use these around the house or why not, to make it as a gift for somebody.
I made a video to show you how I made these glass jar Christmas crafts:
Glass Jar Christmas Crafts Ideas – Cute Ways to Use it.
Easy to make Christmas DIY decorating glass jar idea. I used a spaghetti sauce jar and decorated it with faux snow, garland, and red berries I found at Dollar Tree.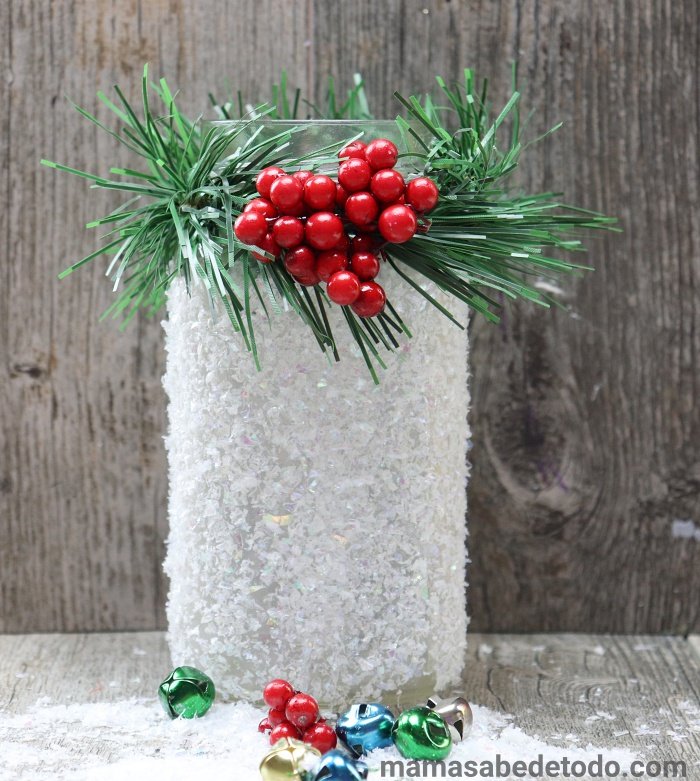 I painted the glass jar with Mod Podge and used faux snow to covered it. You can also use Epsom Salt, both options turn out well. Let it dry for a couple of hours before to glue the garland and berries.
2. I followed the same steps with this jar. I wrapped jute twine around the top and glue some red berries and pins I had from last year. Spraying metallic foil paint on the lid gives the jar an elegant touch. Let it dry for a couple of hours.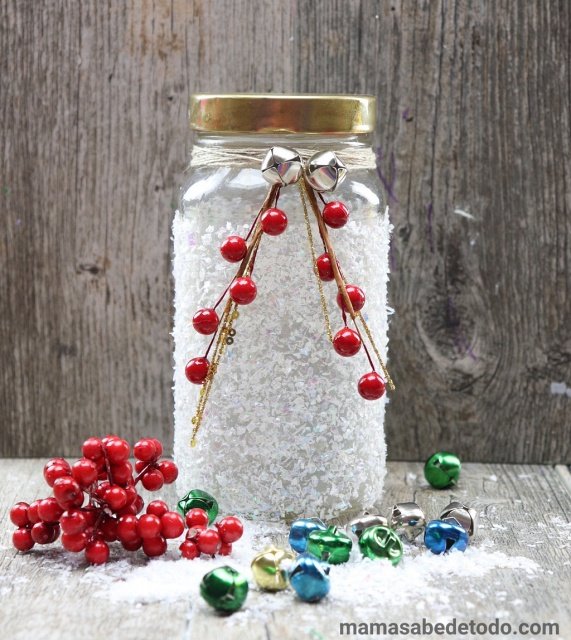 Glass Jar Christmas Crafts Ideas – Tinted Jars
I have to confess that my first attempts to tint jars didn't turn out well. I tried different methods I found online, and my jars had spots, or the color was too light, or something else. And I also realized I was using the wrong type of Mod Podge. So, after trial and error, I want to share with you how I got that nice and perfectly tinted jar.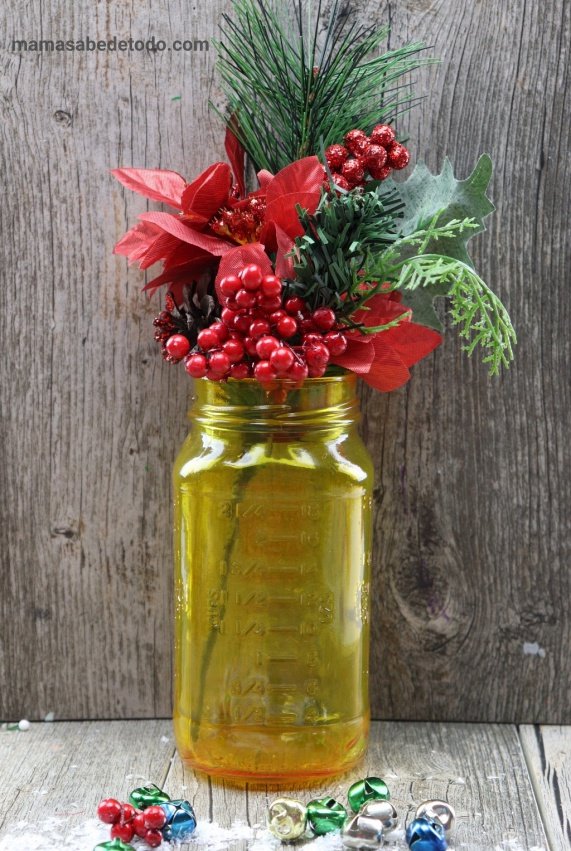 Food coloring was used to tint the glass jars, I wanted my jars to have a strong color instead of a slightly tinted jar. I mixed 55 drops of food coloring and 1 tbsp of water.
I added 4 tbsp of Mod Podge Gloss Lustre to the mix. Make sure to use this type. In my first attempt, I made the mistake to use Matte type, and it didn't turn out cute.
I poured a little of the colored glue into the glass jars and swirled it around to cover the entire inside and I let it drip out for 20 minutes, this is key if you want to avoid thick spots as a result, the longer you let it drip, the better.
I popped it in the oven at 195°F, for about 12 minutes. The jars were upside down. Then I turned them over and baked it for another 10 minutes or so. I recommend that if you don't see it completely done keep baking on 2 minutes intervals. Baking time can be different depending on your oven.
Keep in mind that tinted Jars are not suitable for storing food. Tinted jars are just made for decoration purposes. Don't put water inside it either. Otherwise, you will wash out the tint if you do it.
Glass Jar Christmas Crafts Ideas – Snow Globes Using Miniatures
This is a very simple Glass Jar Christmas Craft, all you need is a glass jar (for this craft I used a Mason Jar), some miniatures, and faux snow. You can find miniatures at Dollar Tree.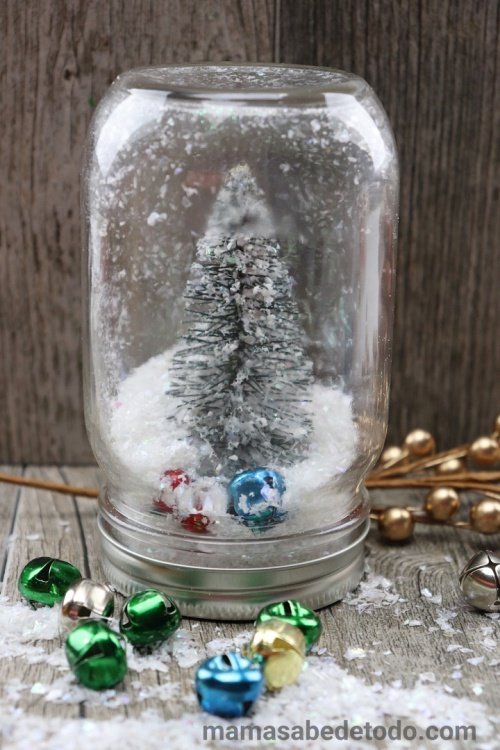 I glued the miniature to the lid (using hot glue) and poured faux snow with glitter into the jar, then I added some red berries and other decors.
What you need for these crafts:
Mod Podge Gloss Lustre
Food Coloring
Glass Jars or Mason Jars
Faux Snow
Glitter
Red Berries
Garland
Jingle Bells
Christmas Stems
Jute Twine
Miniatures
Metallic Foil Paint
Tea Lights
PIN IT!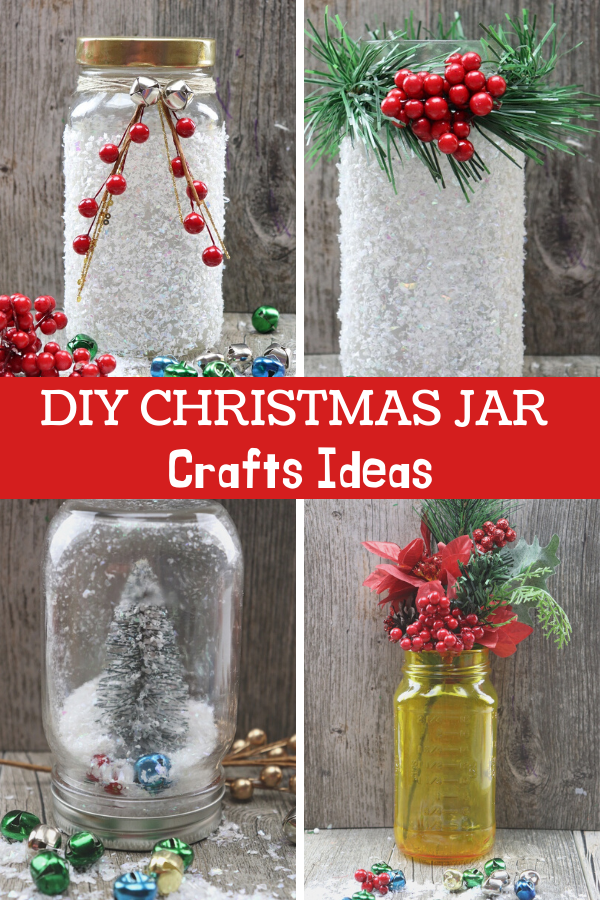 Are you looking for a holiday recipe? This Instant Pot Cinnamon Apple recipe is a hit at home!