Pin it!
The health benefits of turmeric and curcumin are countless. This native plant from Southeast Asia is known as an aromatic spice and is used to give a touch of color and flavor to some meals. Its phytochemical compounds give this plant important medicinal properties.
Since the past, many properties and benefits of turmeric have been described. Among these benefits, we find its antibacterial, antifungal, and antiparasitic effects. Specific effects have also been shown on the skin, gastrointestinal, respiratory, and liver systems. Turmeric has also been found to have anti-inflammatory effects, lowers cholesterol, and triglycerides.
Studies show turmeric's benefit in the liver, kidney, cardiovascular, neurodegenerative diseases, diabetes, and cataract diseases. The latest research on the biological effects of turmeric extracts and curcuminoids is aimed at studying their anticancer activity, mainly against the skin, colon, and duodenum cancer (1).
The greatest health benefits of turmeric and curcumin are listed below: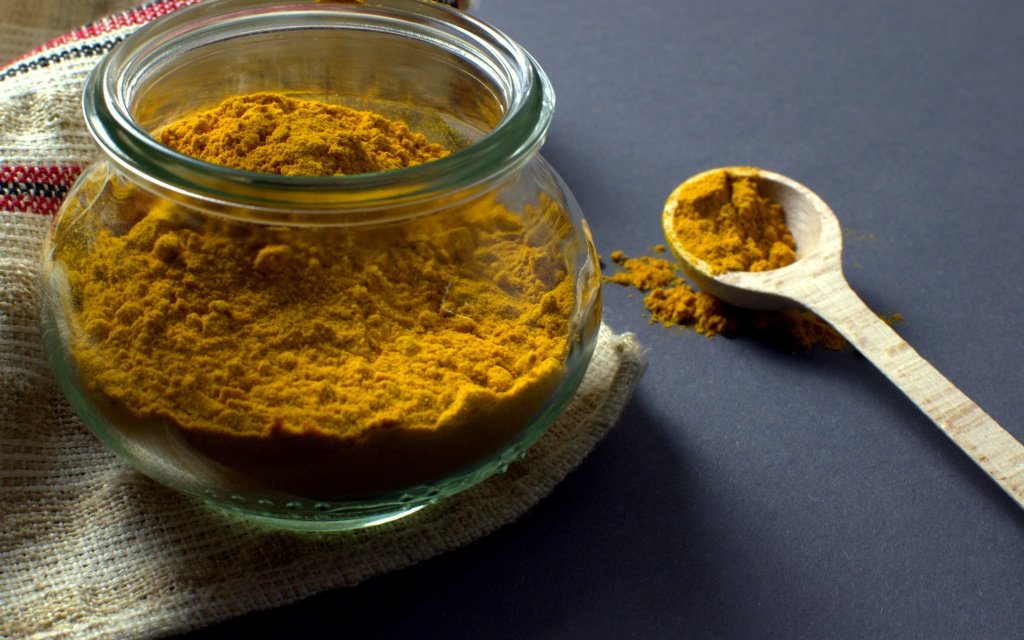 1. Turmeric is a powerful anti-inflammatory
One of the best-known benefits of turmeric is its ability to fight inflammation, whose power is attributed to the Curcumin. According to one study, at the right dose, turmeric may be a treatment anti-inflammatory drugs more effective than common anti-inflammatory drugs such as Ibuprofen and Aspirin (2).
2. Turmeric can help prevent diabetes
Turmeric can help in the prevention of diabetes through its anti-inflammatory and antioxidant properties. It has been found to improve many of the factors that contribute to diabetes, such as insulin resistance, high blood sugar levels, and high cholesterol (3).
3. Turmeric helps prevent heart disease
Turmeric is a cardio protector and plays an important role in preventing heart disease including atherosclerosis, myocardial infarction, and aneurysms (4). Beyond this, it has been reported that its antioxidant and anti-inflammatory properties are effective in cardiac complications caused by diabetes (4).
4. Turmeric helps relieve arthritis symptoms
Thanks to its anti-inflammatory power, turmeric could be beneficial as an adjuvant in the treatment of arthritis. An eight-week study found that patients noticed improved joints and a decrease in inflammation when compared to other groups. Researchers noted that turmeric treatment was safe and did not cause harmful health effects. (5)
5. Turmeric can prevent (and possibly help in the treatment) cancer
Because inflammation is related to tumor growth, turmeric anti-inflammatory compounds can play an important role in the treatment and prevention of some cancers, including colon, pancreatic, prostate, breast and gastric cancer (6). In fact, some research has found that turmeric can help slow the multiplication of tumor cells and thereby prevent tumor formation. However, these studies have been conducted on animals and more research on human effectiveness is still needed. (7)
6. Turmeric can improve skin conditions
Thanks to its antibiotic, anti-inflammatory, and antimicrobial properties, turmeric can be effective in treating skin conditions such as dermatitis, and psoriasis. According to a review, turmeric applied directly to the skin may be effective(8).
7. Turmeric protects the body from free radicals
Turmeric antioxidants help protect the body from damage caused by free radicals. In addition, they stop cell oxidation in vital organs such as the kidney, liver, or heart. It can also be used as an anti-aging supplement.
8. Turmeric helps you improve digestive and intestinal problems:
Thanks to its antibacterial and anti-inflammatory power turmeric can help you in the treatment of gastritis, especially if it is linked to Helicobacter pylori and in the treatment of inflammatory bowel disease (e.g. ulcerative colitis).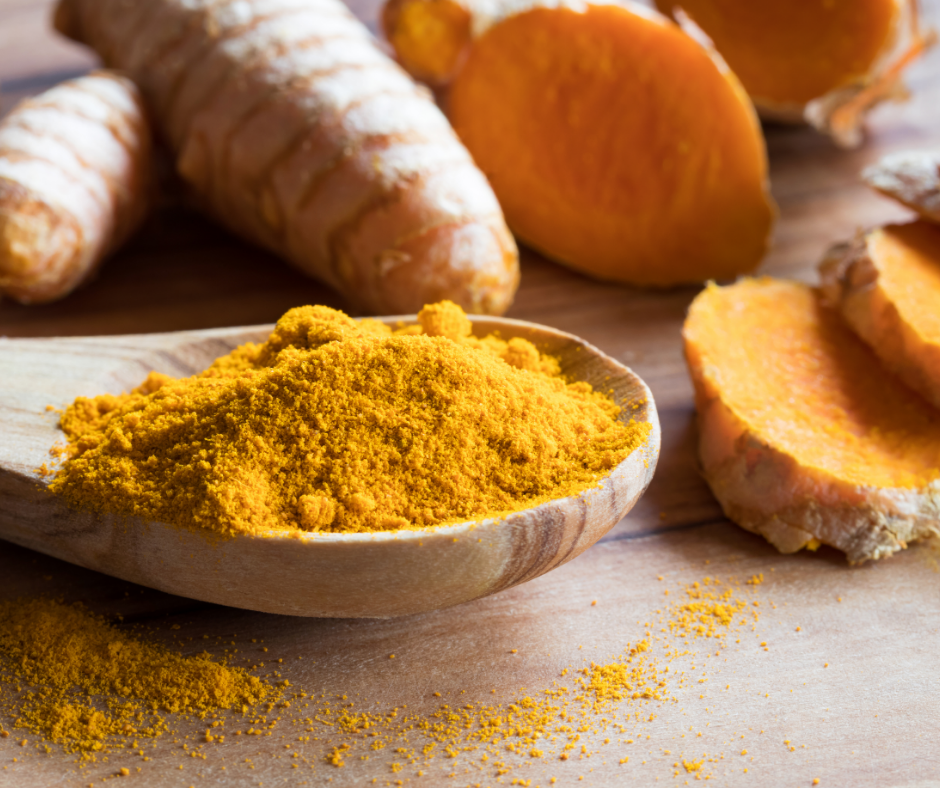 Turmeric Dosage and Presentations
The best way to get the benefits of turmeric is through supplementation. But that doesn't mean we can't use the powdered presentation as a dressing in meals or beverage preparation. Adding turmeric daily to your meals is a great idea.
Although there is no official consensus on the effective dose of turmeric and its active component curcumin, it has been found that 500 mg daily is a safe dosage.
It is clear, that curcumin alone is difficult to absorb, so the solution is to match it with another very common spice: black pepper. When black pepper and turmeric combine together, the body's ability and ability to absorb it (9) is increased.
There are organic and powdered presentations, which you can use in the preparation of tea, to season meals and that you can also add to soups and fruit and vegetable smoothies.
When using powder presentation, the common rule is that in one teaspoon of powder there are 200 milligrams of curcumin (this amount varies depending on the origin of the product). Remember to consume it together with black pepper for easy absorption.
When is turmeric not recommended?
If you have any of these conditions DO NOT consume turmeric supplements:
Pregnant and nursing mothers: There is insufficient evidence to show that consumption of turmeric supplements is safe in pregnant women or nursing mothers.
Gallbladder diseases: Turmeric can cause the gallbladder to contract, which can worsen symptoms (10).
If you have a tendency to develop kidney stones: Turmeric is rich in oxalates, so it can bind to calcium and cause kidney stones to form. (11)
If you have problems with blood clotting: Turmeric can decrease the ability to clot blood, which can make the problem worse. (12).
If you have iron deficiency: Turmeric may interfere with iron absorption (13).
However, even under these circumstances, turmeric is safe in the amounts typically added to food.
Summary of health benefits of turmeric and curcumin
Turmeric is a superfood with anti-inflammatory, antibacterial, digestive, and high antioxidant power properties. All these benefits are thanks to its active compost: curcumin, which is also responsible for giving the distinctive yellow-orange color of turmeric.
Turmeric powder brings health, color, and flavor to food and beverages. On the other hand, turmeric capsules are very rich in curcumin, with supplementation being the best option to treat arthritis, control diabetes, delay aging, improve gastrointestinal problems, improve skin conditions, and prevent cardiovascular disease. Don't forget to bring a healthy and balanced diet.
Did you like this article? Help us reach more people by sharing this guide.
This publication is not intended to replace medical or nutritional consultation. Talk to your doctor if you have any questions.
Recommended articles: Vitamin C: Food Source & Supplementation | Important Nutrients During Growth in Children