In our house, coleslaw is always present in BBQ. This salad is very typical in the United States, and people love it. You will look good if you bring coleslaw to a friend's house.
In many stores, you can get ready-made coleslaw. However, most coleslaw or cabbage salad on the market contains high-fructose-corn-syrup, an ingredient we try to avoid to the fullest at home (is linking to the rise of obesity and the development of other diseases). That's why I like to make my own version of this salad so I know the ingredients it contains.
I really, really love coleslaw.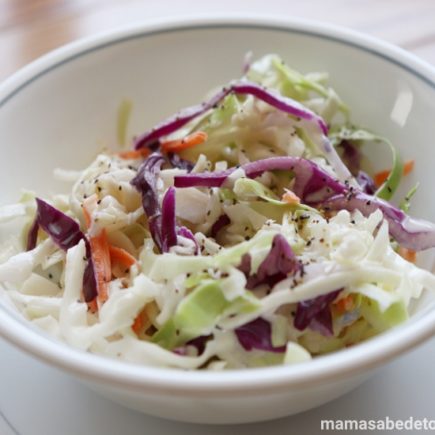 Best Coleslaw Recipe
Delicious Coleslaw Recipe. Great as a side dish for your BBQ's, you will love it!
Ingredients
½

medium

cabbage (500gr)

1

large

carrot

¾

cup

mayonnaise

1

cup

pineapple juice (we'll use the juice from a can of chunked pineapple)

1

tbsp

apple cider vinegar

½

tbsp

sugar (optional)

1

pinch

pepper
Instructions
Wash, peel and grate the carrot.

Wash the cabbage, remove the first leaf and cut it into thin strips.

In a small bowl add mayonnaise, pineapple juice, apple cider vinegar, sugar (optional) and pepper.

Stir until all ingredients are well mixed.


Add this mix to the cabbage and the carrot.
You can use white or purple cabbage (In this case you use 1/4 or approximately 250 gr each). Personally, I like to use a little of both to make it look more colorful. You can cut the cabbage with a mandolin or with a sharp knife. If you want cabbage and carrot cut to an even size, use a mandolin.
The pineapple juice I use comes from a 20 oz can of chunked pineapple. If you don't know what to do with pineapple pieces, you can cut a small amount into much smaller pieces and add them to the salad or make some rich ice creams.
I like to serve coleslaw or cabbage salad instantly when I make it as the cabbage and carrot are crispy. However, you can prepare it in advance. Just follow the steps above and keep the chilled sauce in a lidded container. Before serving, combine the salad and sauce.
What other ingredients can I add to this coleslaw?
You can make your own version, here are these ideas:
Pineapple bits
Strawberries
Dry cranberries
Chopped almonds
Pumpkin seeds
How many days can I keep coleslaw or coleslaw in the fridge?
You can refrigerate it for about 2 days. It is important to keep it in an airtight container. Also, keep in mind that the texture will no longer be crisp but soft. However, the taste remains.
Needless to say, this salad is a hit at home. Like the chimichurri sauce I made for my BBQ too. I hope you enjoy it.
Best regards!
PIN IT!