You will love this Instant Pot and Cinnamon Apples Recipe.
I want to share with you that I am an Instant Pot newbie. After years of using my Crock-Pot, I finally decided it was time to give my kitchen a new gadget. So I bought an Instant Pot that I want to use as many as possible.
I am not a big fan of Kansas weather and I always tell my husband here in Kansas we just have two seasons: Summer and Winter. Because usually here is too hot or too cold. It's Autumn and temperature today is 27º F and super windy. You can imagine how a Latin girl like me feels.
The good news is that this weather makes me stay indoors so I have more time for cooking, and of course for blogging. Didn't I tell you I love comfort food? Well, I do. And I love to make recipes that light up my family's face. So this week I tried an Instant Pot Cinnamon Apples recipe. I found several recipes online that I tested and after making some adjustments I came out with this version of my Instant Pot cinnamon apples. This recipe was a hit with the kids!.
Pin it!
Some recipes call out for Granny apples if you like a sour taste. However, you can use any other type of apples. Since my Gala apples were getting forgotten on my kitchen counter, I used those.
For this Instant Pot cinnamon apples recipe, I used seven medium size apples.
Peel, core and cut the apples around 1/2 inches thick. Transfer those to your Instant Pot. Add the juice of a medium lemon and mix it.
Add brown sugar, cinnamon, nutmeg, and maple syrup. Toss it.
In a bowl add water and cornstarch. Mix it until all lumps have disappeared. Add the liquid to the apples making sure you get everything covered.
Turn on your Instant Pot in manual setting and cook for 6 minutes. Make sure the vent is set to seal. Let the apples sit. You can do a natural pressure release for 10 minutes.
Open your Instant Pot and stir gently. You can serve immediately or let it cool in the fridge for a couple of hours before serving. Both options are delicious. Enjoy!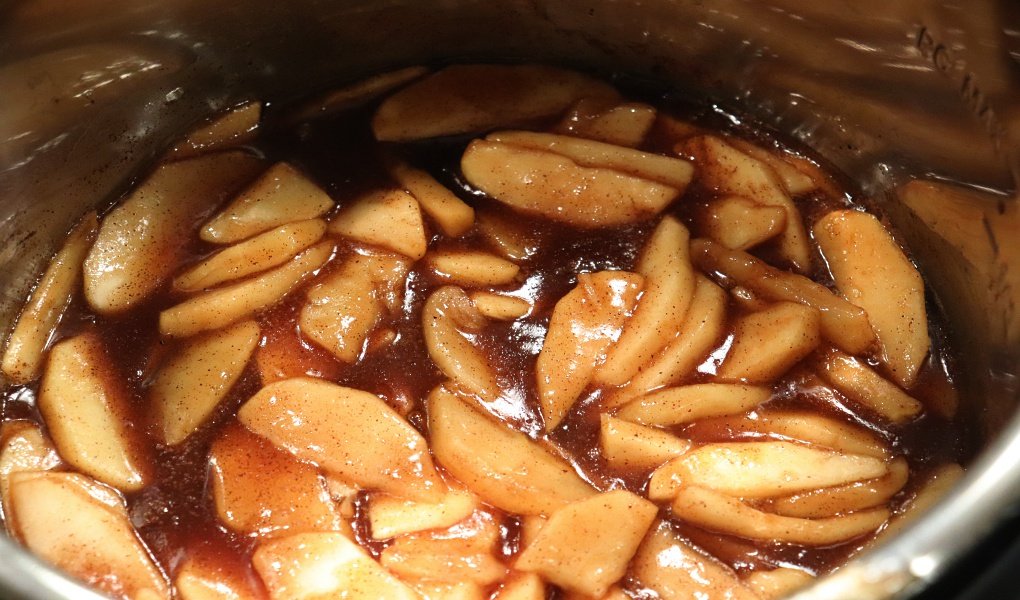 Instant Pot Cinnamon Apples
Easy and Fast Recipe! Great for the holidays.
Ingredients
7

medium

apples

1

medium

lemon

¾

cup

brown sugar

1½

tsp

ground cinnamon

¼

tsp

nutmeg

2

tbsp

maple syrup or honey

1

cup

water

3

tbsp

corn starch
Instructions

Peel the apples, take out the heart and the seeds. Cut the apples about ½ inch thick. Transfer it to the instant pot.

Squeeze the lemon and add the juice to the apples, stir.

Add brown sugar, cinnamon, honey or maple syrup and nutmeg to apples. Stir in such a way that apples are covered.


In a medium bowl, mix the cornstarch with the water. Stir until lumps disappear and add the mixture to apples. Stir again.

Close the lid making sure the valve is closed. Turn on the instant pot in manual mode and cook for 6 minutes. Let the apples stand and do a natural release 10 minutes later.

Remove the lid and stir. You can serve immediately or let them cool in the refrigerator for a couple of hours. Both options are delicious.